RETURN TRANSFER FROM BARCELONA
We'll pick you up and drop you off at Arc de Triomf. You'll be in a private, air-conditioned van, minibus or coach.
ACTIVITY, GUIDE & INSURANCE
You're tour is in good hands with our experienced guides for a fun, friendly and professional service.
LUNCH, EQUIPMENT & PHOTOS
We provide lunch, all of your equipment, FREE photos &.. a FREE beer after your tour.
We take you up the coast of Spain from Barcelona to the stunning waters of the Costa Brava. We supply quality Costa Brava tours with our team of experienced guides.
All you have to do is choose the best activity for you, and we'll do the rest.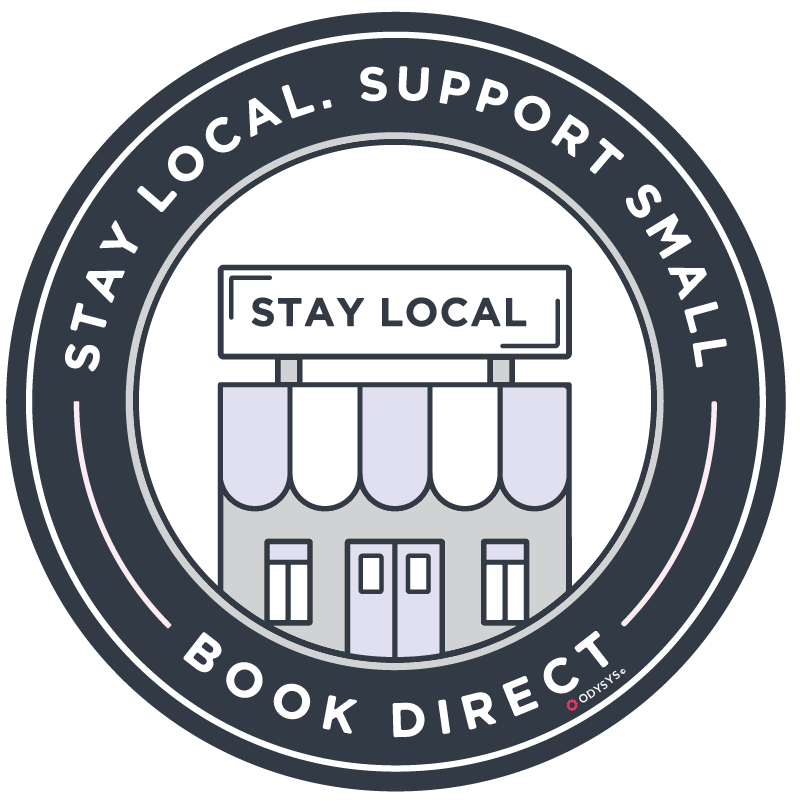 - Stand up paddle board -
Our focus is your experience
10/10!! Would highly recommend!! Tim and Irene were amazing people who really looked after us. Worth every penny!! First time ever kayaking, but after today, surely not my last:)
Amazing Tour with an amazing guide. Had a very nice Day. Worth every penny. If im ever coming back i will do it again 👌
Giorgio Algisi
2022-08-09
Youssef Megahed
2022-08-09
Was a nice day, Gerrard is a very nice and cool guide.
Anil Kodagalli
2022-08-08
Just simply incredible experience.!!! Loved every bit of this day trip. Thanks to both Tim and Marc for such a well planned, organised, eventful exciting day trip...WORTH EVERY PENNY of what we paid for. Had an exciting and memorable family experience with my wife and two young children for this whole day trip visiting this beautiful beach, Kayaking, Snorkelling, and even decided to beat my fear and did a cliff jumping.., all this in the lovely clear Mediterranean Sea. I strongly recommend it for all age groups.!!! Will love to do it again sometime in future. Thanks Tim and Marc for making our trip to Barcelona such a memorable one, for this particular day trip. Regards Anil
Lesley McCorquodale
2022-08-07
Loved, loved, loved my SECOND trip kayaking and snorkelling with Tim and his team. My 2nd time certainly did not disappoint and my guide Mark was amazing, making sure the whole group was involved and having the best time. Amazing value for money and who knows maybe a 3rd trip will be soon!!
From being a recluse to somersaulting off a cliff into the sea, I can happily say this was one of my best experiences ever. The guide Jerard was absolutely excellent, and Tim he was so full of energy! Absolutely brilliant! Thankyou
Mitchell Chancey
2022-08-07
Amazing!!! Highly recommended
We had an absolutely fantastic time with Tim and his crew! The location was beautiful and the water was amazing. The concise kayak and snorkelling instructions gave us confidence to head out onto the water. Tim was knowledgeable about local folklore and entertained us with stories and funny banter. The lunch on the rocks and beer in the bar were great too. I highly recommend this day trip!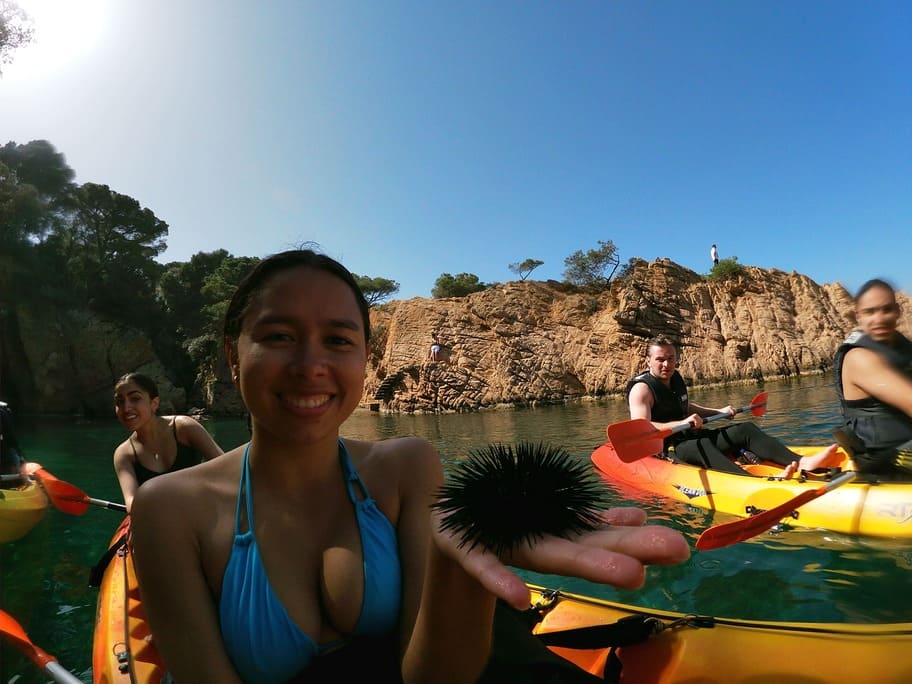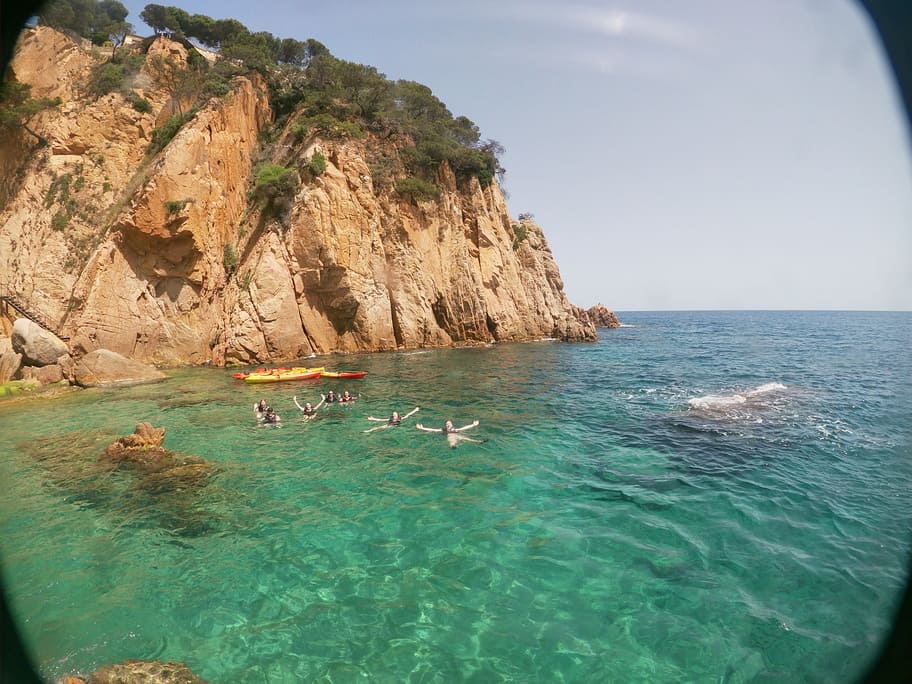 Barcelona Day Trip tours and activities
Enjoy a day of exciting water sports with one of our English-speaking guides. Don't worry if you don't have any experience, we'll take you through the basics and either guide you around the coast on a kayak tour, set you off on a paddleboarding adventure, or get you started to find treasure in one of our outdoor escape rooms.
All our Costa Brava tours include return transport, your activity, guide, insurance, picnic lunch, all equipment and photos.
Why do a day trip?
Leaving the city for the day to enjoy Spain's incredible coastline and crystal clear waters is a must and what better way to spend it than making memories and meeting new friends, all the while, being well looked after by us. It also ensures you can try a Costa Brava tour from Barcelona with little stress and time to enjoy the city for the rest of your holiday.
Our experience makes yours unforgettable.
Exciting all-inclusive 10-hour guided Day Trips from Barcelona. An introduction to La Costa Brava, tailored for quality and value in a safe environment.
Choose your activity, meet us at the pickup point and we'll do the rest. From couples, families, and groups to the individual traveller. From experienced sports enthusiasts to total newbies; even if you can't swim, we'll take you for an incredible beach day trip from Barcelona on a Costa Brava tour and back. So relax, and enjoy the ride.
We're very happy with the activities we provide but don't take our word for it, check out our reviews. Our company is young but we are not and have been providing tours for a long time in Barcelona!
Travel update COVID 19 (2022)
Our activities are outdoors in a low risk environment so book your Barcelona Day Trip with confidence!
Catalonia's COVID 19 restrictions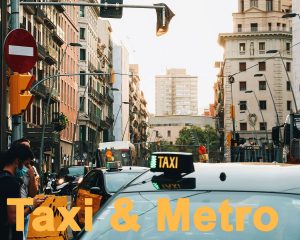 Basic guide to using transport, with fantastic Barcelona taxi and Metro infrastructure that's cheap and accessible. Barcelona Taxi Let's start you off withg some top tips for Barcelona with a taxi and Metro guide (New 2022) With over 10,000 licensed taxis in Barcelona, taking a taxi is easy. You can find a …